Aromatherapy Bath Salt: Adding Flavor to a Relaxing Ritual
English author and playwright Dodie Smith once said, "Noble deeds and hot baths are the best cures for depression." Indeed, just the idea of taking all the time in the world to soak in a bath and wash away all the cares and problems of the day is relaxing already. Adding aromatherapy bath salt to your bathwater is an excellent way to make this form of ablution a more comforting and pleasurable experience. Not only that, high-grade and pure aromatherapy bath salt – by itself or combined with aromatic oils -- also has numerous positive physiological and psychological effects. It's something that's good for the body and the mind.
Dead Sea Aromatherapy Bath Salt: The Best of the Best
Natural salt extracted from the waters of the Dead Sea in the Middle East is by far the most popular and most beneficial of all aromatherapy bath salts. It is a very rich source of minerals -- including magnesium, potassium, and calcium – all of which are necessary for good health. Scientific studies have shown that Dead Sea aromatherapy bath salt has antibacterial properties, and is therefore helpful in treating skin ailments such as eczema and psoriasis. In addition, Dead Sea bath salt has shown ameliorative effects on rheumatism and arthritis.
Which Aromatherapy Bath Salt to Choose?
In addition to Dead Sea bath salt, there are numerous other types of aromatherapy bath salts from which to choose for a sustaining and therapeutic soak in the tub. An example is Epsom bath salt. This can be used for a healing bath since it has high magnesium and sulfate content, both of which have medicinal effects. Soaking one's tired, aching feet – or the whole body for that matter – in water enriched with Epsom salt eases muscle pain, helps bruises heal faster, and relieves aching joints. Noirmoutier salt taken off the coast of Brittany in France is another excellent aromatherapy bath salt option, since it is very rich in minerals and healthful trace elements. For a more exotic experience, one can try bath salts taken from the waters of Bali. The Balinese use a uniquely traditional process to create this type of aromatherapy bath salt, one that is intertwined with their reverence for the purifying and sanctifying powers of the sea.
Aromatherapy Bath Salt: Succumb to the Experience
Everybody deserves a little pampering now and then, and taking a long, luxurious bath is not such an expensive extravagance. Sometimes, it may even be necessary. Aside from helping to condition and tone the body, aromatherapy bath salts also act as a psychological balm and help one to achieve a peaceful state of mind. The next time you start filling your tub, consider adding aromatherapy bath salts and transform your bathroom into a haven of healing and relaxation.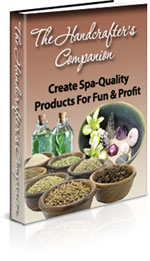 "The Handcrafters' Companion" is an excellent resource for anyone who loves aromatherapy and crafts.
The book is all about creating your own bath and body products. The author did a great job putting it together and you'll find the information in it both fun and extremely useful.
It is full of recipes and tips on:
Bath Bombs
Bath Salts
Potpourri
Aromatherapy Oil Blends
Bath Teas & Soaks
Homemade Bubble Baths
Butters & Homemade Lotions
Bath Scrubs
Spa Treatments like Body Wraps and Bath Oils
Soap Making
Main Menu
Aromatherapy
Applications