Oil of Lemon Eucalyptus
The lemon eucalyptus essential oil comes from a variety of eucalyptus tree and is grown in many parts of the world, including parts of Central America. Through the use of steam distillation techniques, the oil can be extracted from both the leaves and the sticks of the tree.
Characteristics Lemon Eucalyptus Essential Oil
The extracted oil of lemon eucalyptus can be described as being light yellow in appearance with a thin consistency. As the name implies, the oil possesses an aroma that is very similar to that of a lemon. Despite this similarity to the fruit, the scent is mild and rather sweet.
Benefits of Oil of Lemon Eucalyptus
Like most essential oils, the oil of lemon eucalyptus has many uses. It is a strong antiseptic and antifungal agent, sometimes being used to counteract athlete's foot when properly diluted. Lemon eucalyptus essential oil has properties that help to soothe aching muscles and joints, again when properly diluted. Also like other essential oils, this extract is effective in warding off insects. The aroma from the oil of lemon eucalyptus said to soothe your nerves and awaken your mind.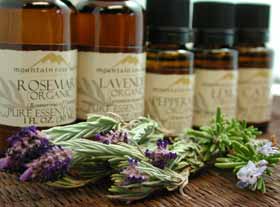 The essential oils from Mountain Rose Herbs are 100% steam distilled plant oils. They are perfect for soap making, oil diffusers, bath salt making, and more!
Certified Organic Oils - Use Your New Oils With Peace of Mind!
Orders Shipped Within

24 Hours

- Get Your Order Faster!
High Quality Oils Perfect for Aromatherapy or Your Favorite Craft.
Mountain Rose Herbs Products to Ensure That You Will Get the Most Out of Your Ingredients.
Main Menu
Aromatherapy
Applications